[01/04/11] THE FAMOUS FIVE REUNITED - WORLD EXCLUSIVE GROUP INTERVIEW by Andrew Read
Following the international success of Famous Five Revisited – In Conversation with Marcus Harris which attracted downloads from countries including Russia, New Zealand, USA and Finland to name just a few, Sunshine Hospital Radio now brings together three of the original cast members with one of the writers of the 1978/79 Southern TV series of the Famous Five.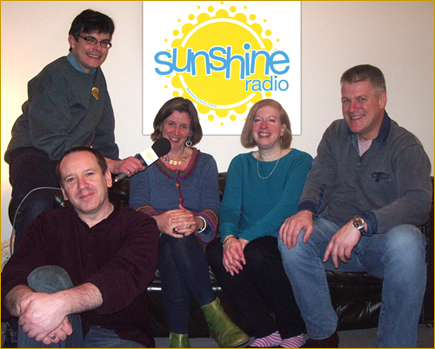 In their first group interview for over 30 years, Marcus Harris (Julian), Gary Russell (Dick), Jennifer Thanisch (Anne) and BAFTA award winning writer Gail Renard join Sunshine Radio's Andrew Read in a nostalgia-filled half hour.
The programme is full of anecdotes and memories from the people at the heart of one of the 1970s most iconic TV series. Amongst other things, discover Gary's unique way of remembering lines, which cast member was addicted to sausages, and just why it didn't matter that Jennifer wasn't wearing a riding hat in the famous title sequence!
Looking to the future, the programme also discusses the release by Moviemax Movies & More of all 26 episodes on DVD.
Recorded in West London, Famous Five Reunited was the most logistically involved programme that Sunshine Hospital Radio has produced to date. Special thanks go to Marcus Harris, Gary Russell, Jennifer Thanisch, Gail Renard, Jack Daley, Robbie Gill, Karl Kolar, Andrea Blatter and Marcus Tripp.
- For more information on the Famous Five please visit the world renowned International Fanpage.