[09/02/11] THE FAMOUS FIVE REVISITED - INTERVIEW WITH MARCUS HARRIS by Andrew Read
As a producer at Sunshine Hospital Radio, I am always on the lookout for interesting events to cover or people to interview that, hopefully, will be of interest to the patients at Weston General Hospital.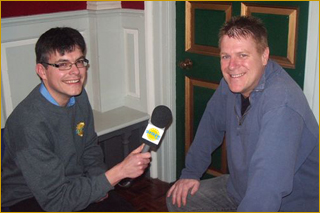 With the planned release of all the 1978/79 Southern TV Famous Five episodes on DVD, it seemed the perfect moment to find out more and relive some of my lost youth by speaking with Marcus Harris, also known as Julian from the 70's series.
I met with Marcus near his home and spent a very interesting and fun couple of hours, firstly trying to find somewhere to do the recording without being drowned out by background music (which is terrible for post production editing). Marcus and his contacts came to the rescue and we ended up in a small room at the back of the Tourist Information having moved an old Christmas Tree out of the way (– the joys of show business!) The picture accompanying this article was taken in the beautiful council chamber on the floor above but, due to an wedding about to take place, we couldn't stay there.
The interview covered Marcus' early days in theatre (he started at age 4), the auditions (with 4000 other hopefuls) for his part in the Famous Five, stories from behind the scenes during filming (including the importance that Queen's Bohemian Rhapsody played in the children's daily travels), and how the arrival of the Internet has revived interest and brought the series to the attention of a whole new generation of fans.
It was really great to meet up with Marcus and spend time reminiscing not only about the series but also the 1970s, an era now lost, where life seemed much safer and children could still dream that the sort of adventure written about the five could, just possibly, happen to them.
- For more information on the Famous Five please visit the world renowned International Fanpage.