[24/3/12] JOHN, YOKO & ME - In Conversation with Gail Renard.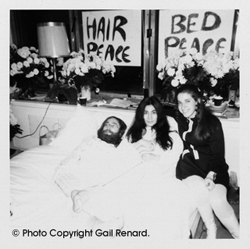 Beatles fan Gail Renard shot to international fame in 1969 when she gatecrashed John Lennon and Yoko Ono's Bed-in for Peace in Montreal, sharing their lives for eight days.
She witnessed history in the making and contributed to the recording of one of the greatest peace anthems of all time.

In this exclusive interview with Sunshine Hospital Radio, Gail relives that seminal moment in her life, and describes how John's support set her on a writing career which has led to her being recognised as one of the nation's leading television writers with numerous series and a BAFTA award to her name.

The programme was recorded at the headquarters of the British Academy of Film and Television Arts in London's Piccadilly.

Sunshine Hospital Radio would like to thank Walker Books and BAFTA for their assistance in the making of this programme.